Tire Rotation Service in Webster, TX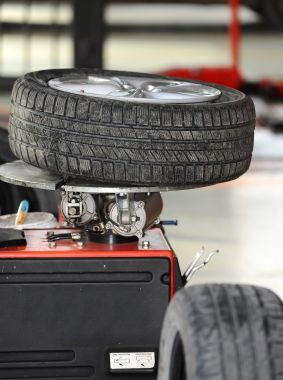 For service that you can depend on, head on over to Mazda of Clear Lake. Our talented team of technicians is qualified and knowledgeable for anything that your vehicle may need, such as a tire rotation service in Webster, TX. This simple yet effective service can make all the difference on your vehicle and its tires. Contact us today to learn more!
What exactly is the point of a tire rotation? To avoid having to replace your tires, which can be an expensive service in and of itself. A rotation can help prolong your tires longevity. It's inevitable that your tires will experience wear, as they encounter bumps, potholes, rugged terrain, and a variety of other conditions, on a daily basis. In an effort to prevent costly services down the road, a rotation will help spread the wear of your tires more evenly.
For our technicians, tire rotations are easy and quick. When you bring in your vehicle, our mechanics will inspect each tire's wear and determine the best protocol of where to place each. Oftentimes, the rear tires will switch places with the front tires, as the front wheels tend to experience more wear. In a tire rotation service in Webster, TX, our mechanics will remove each tire, check the pressure level to ensure proper inflation, and place them in the optimal position.
For reference, it's recommended that a routine tire rotation be performed every 6,000 to 8,000 miles, or every six months. A rotation not only helps prolong your tires' lifespan, but it also ensures a streamlined performance with increased efficiency, as well as optimal traction and balance. If there are any questions that you may have, please feel free to utilize our Ask a Tech tool. This simple form puts you in direct contact with one of our talented mechanics. When you send in a question, one of them will get back to you in a timely manner!
There are many discrepancies as to when the proper time is for a tire rotation. However, there are a few telltale signs to look out for that could indicate it's the correct time. As an example, you may experience more vibration at the wheel than usual during driving, which could mean that your tires are experiencing improper balance or wear. For a quick confirmation of this, you can utilize the Penny Test to inspect your very own tires! This simple and easy test lets you know whether or not it's time to bring your vehicle in, and all you need is a penny! In a few of the grooves, insert Abe Lincoln's head facedown. If you see his entire head, it may be time to have the tire or tires looked at professionally.
If it's time for a tire rotation service in Webster, TX, contact us at Mazda of Clear Lake today. Our Service Department is always more than happy to assist! Contact us today at (281) 823-6000 for more information or to schedule an appointment.
Testimonials
Customer Testimonial
February 9, 2015
Customer Testimonial
February 10, 2015
Customer Testimonial
February 9, 2015
Customer Testimonial
February 8, 2015
Customer Testimonial
February 4, 2015
Customer Testimonial
February 2, 2015
Customer Testimonial
January 30, 2015
Customer Testimonial
January 29, 2015
Customer Testimonial
January 22, 2015
Customer Testimonial
January 20, 2015
Read More
Service Hours
281-823-5000
| | |
| --- | --- |
| Monday | 7:00 am - 6:00 pm |
| Tuesday | 7:00 am - 6:00 pm |
| Wednesday | 7:00 am - 6:00 pm |
| Thursday | 7:00 am - 6:00 pm |
| Friday | 7:00 am - 6:00 pm |
| Saturday | 8:00 am - 3:00 pm |
| Sunday | Closed |